While Arianespace CEO Jean-Yves Le Gall is earning contracts and cooperation in the Asia-Pacific marketplace – including the signing of the VINASAT-1 contract – the next Ariane 5 ECA launch has received an upgraded upper stage.
The cryogenic ESC-A upper stage – supplied by EADS Space Transportation – will provide increased lift capabilities for the Ariane 5 ECA.

The ESC-A system is powered by Snecma Moteurs' proven third stage HM-7B cryogenic engine – which provided reliable service during its many years of service on the Ariane 4 launcher version. The ESC-A upper stage is being readied for installation into the Ariane 5 vehicle inside the Launcher Integration Building for installation atop the Ariane 5.

The upcoming Ariane 5 ECA flight – which is scheduled for August – will carry France's Syracuse 3B new-generation military communications satellite and the JCSAT-10 telecom relay platform.

JCSAT-10 is a hybrid satellite, equipped with Ku-band high-power transponders and C-band medium-power transponders. Built by Lockheed Martin Commercial Space Systems of the U.S., JCSAT-10 will be located at 128 degrees East longitude and operated by JSAT Corporation of Japan.

Syracuse 3B was produced by Europe's Alcatel Alenia Space for the French DGA defense procurement agency, and will operate in the SHF (super high frequency) and EHF (extremely high frequency) bands. The satellite has been hardened to resist nuclear attack and is to offer significantly enhanced service in terms of data throughput and resistance to countermeasures.
Meanwhile, Arianespace marked its 10 years of presence in Singapore with a new launch contract for Vietnam, further reinforcing the company's position in the Asia-Pacific marketplace.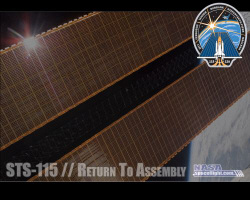 'Over the past 10 years, Vietnam's economy has grown steadily and, taking into account purchasing power, the per capita GNP is over $2,000 today,' Le Gall said. 'Vietnam's economy has grown to a level where it can take full advantage of its own communications satellite.

'Arianespace is proud to have played a constructive role in Vietnam, and is pleased to see that it has participated in a process that led to a good choice for Vietnam and a good choice for the satellite communications market in Southeast Asia.'

He noted the VINASAT-1 contract announced here today is Arianespace's 53rd launch order for a satellite operator in the Asia-Pacific region, and the 275th payload booked by the company since its creation in March 1980.

VINASAT-1 will be produced by Lockheed Martin Commercial Space Systems in the U.S., and is to be launched by an Ariane 5 from Europe's Spaceport in French Guiana during the first half of 2008.


**NASASpaceflight.com Job Opportunities**



Le Gall was in Singapore as part of Arianespace's participation in the CommunicAsia 2006 summit and exhibition, which is one of the major Asian events for the satellite communications and broadcast sectors.

According to the CEO, Arianespace is ready to serve the Asia-Pacific market from a position of strength, benefiting from a sustained launch tempo, a full range of services, a capable launcher family, and the backing of Europe and its experienced industry team.

In 2006, six Ariane 5 and three Soyuz launches are planned to orbit 14 satellites. From 2008, Arianespace will be launching an average of five or six heavy-lift Ariane 5s from Europe's Spaceport in French Guiana every year, along with two to three Soyuz medium-lift vehicles and one or two lightweight Vega launchers from the well-located equatorial launch base.

Le Gall also cited Arianespace's full-service package as a key to its success. The company's Launch Risk Guarantee is an element of this package, which has been chosen by clients that include Thailand's Shin Satellite Public Company Limited.

'When our customer in Thailand asked Arianespace not only to launch his satellite but also to manage the totality of the launch risk, the satellite, and to include the first months of the on-orbit satellite risk, he did so because he knew that his advance payments were safe with Arianespace,' Le Gall told CASBAA attendees. 'This allowed him to concentrate on what he is good at – which, like many of you here, has much more to do with communications and media.'

'Arianespace is a rather unique company and benefits strongly from the European attitude toward industry, which is quite different to the view of some of our competitors,' he explained. 'I am not trying to say one is better, but they are quite different. The idea of a national champion is positive in much of Europe, and Arianespace is regarded as one of the few pan-European champions, and a symbol of what Europe can do if it combines the potential of each nation.'

In turn, Arianespace's commercial success has fully benefited its industrial partners – as shown by the recent order for 30 Ariane vehicles, which represents five years of work for their European factories.

The capable Arianespace launcher family also is a key element in the company's commercial offering. Le Gall noted that its top-of-the-line Ariane 5 is designed to accommodate dual-satellite payloads, and is able to loft the heaviest satellites with a high degree of reliability, having been designed originally has a human-rated vehicle. The medium-lift Soyuz – which is operated commercially today Arianespace's Starsem affiliate, and will be coming to Europe's Spaceport in 2008 – also is human-rated, regularly carrying international cosmonaut crews to the International Space Station.

'As a result, we expect to have the most reliable pair of launchers on the market,' Le Gall said. 'And with the Soyuz launch vehicle's introduction at French Guiana, it will fill out the Arianespace product range by giving us the possibility to launch GEO satellites weighing up to 3 tons, which can help when we have many satellites arriving at the same time.'

Arianespace's launcher family is to be completed with the Vega vehicle, which will allow Arianespace to address the market for small and non-geostationary payload launches when it joins Soyuz and Ariane 5 at the Spaceport in French Guiana.