The Elektron-VM oxygen generator on the International Space Station (ISS) has broken down, just hours after being re-started following repairs – which included the installation of a new hydrogen vent valve during last week's spacewalk.
Troubleshooting is in-works this evening by Russian engineers on the ground at RSC Energia, with oxygen replenishment currently reverted back to the two Progress re-supply ships docked at the station. The crew is in no danger.

L2, for expanded documents and information covering the space programs at work. To join L2, click the advert —>

Commander Pavel Vinogradov turned on the generator after checking the hydraulic pressure in the newly installed hydrogen dump line and conducted a health check on the BZh Liquid Unit micropumps, operating valves to remove any gas bubbles from micro pump cavities that could trip a safety shutdown.


The Elektron was then successfully activated and was running nominally on 24 amps.
However, after just a few hours, the generator shut down for no apparent reason, although an issue with the power supply is suspected. RSC-Energia troubleshooting will include a series of diagnostic system tests.
An internal NASA report noted that 'there is no immediate impact, since oxygen represses can still be performed from either Progress 20P or 21P oxygen tanks.'


STS-121 Mission T-Shirt. Use discount code 'nasaspaceflight' when ordering from Countdown Creations & receive 5% off!




NASASPACEFLIGHT.COM RSS FEED —>



However, a failure to resolve the issue – and bring the Elektron back to full working service – could impact on the length of the Contingency Shuttle Crew Support (CSCS) timeline. The CSCS length is relevant to the amount of time a stranded Shuttle crew could stay on the ISS before being rescued.
Discovery's STS-121 mission next month has Atlantis in the standby rescue contingency role, with a LON (Launch On Need) requirement later the following month.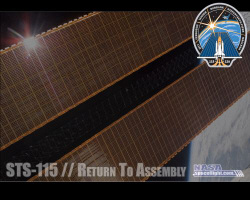 A problem with supplies, especially oxygen, on the ISS could bring forward that LON requirement (currently with a NET date of August 17), which isn't helped by the outstanding work on ET-118 – the External Tank that will fly with Atlantis on STS-115 and STS-300 (if required).

The need to spend 30 days on replacing the LH2 ECO (Engine Cut Off) sensors at the Kennedy Space Center is already threatening the STS-300 date and even the opening window of the STS-115 date, thus adding urgency to find solutions to the Elekron issues.

UPDATE: However, NASA noted later this evening that the current CSCS for a July 1 launch of STS-121 is 81 days, easing any concern on the current LON for STS-300.
'(There is no) affect on the analysis for CSCS because – to be conservative – we only count the oxygen supplies onboard, not an operating Elektron adding oxygen to the cabin,' said Kylie Clem, International Space Station & Mission Operations Directorate Public Affairs Specialist at the Johnson Space Center.



LIVE UPDATE PAGES