ESA (European Space Agency) astronaut Paolo Nespoli has been assigned to the STS-120 crew that will launch Node 2, an Italian-built U.S. connecting module, to the International Space Station (ISS).
Currently NET (No Earlier Than) August 9, 2007, STS-120 (ISS assembly flight 10A) will launch with Shuttle Atlantis.

L2, for expanded documents and insider information covering the space programs at work. To join L2, click the advert. Join soon, due to a pre-determined membership level.

The Italian will be taking on his first flight, serving alongside five NASA astronauts: Air Force Col. Pamela A. Melroy, who will command the STS-120 Shuttle mission (a veteran Shuttle pilot and the second woman to be named commander); Marine Corps Col. George D. Zamka, on his first space flight, who will serve as pilot; and mission specialists Scott E. Parazynski, Army Col. Douglas H. Wheelock and Navy Capt. Michael J. Foreman, also on his first space flight.

Nespoli's mission will be carried out in the framework of the Memorandum of Understanding between the Italian space agency (ASI) and NASA for the supply to NASA of three pressurised Multi-Purpose Logistic Modules (MPLM) and the assignment to Italy of flight opportunities and ISS utilisation.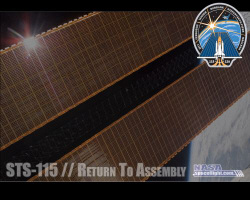 Node 2 for the Space Station is a pressurised module which, along with Nodes 1 and 3, interconnects the research, habitation, control and docking modules of the Station itself. The Nodes are used to control and distribute resources between the connected elements. This Node 2 flight precedes the launch of ESA's Columbus laboratory to the ISS.

Node 3:

The International Space Station will have three Nodes, provided by NASA. Node 1, called Unity, was developed by NASA. It became the second ISS module in orbit after its launch in December 1998. Nodes 2 and 3 are being developed for NASA under an ESA contract with European industry, with Alcatel-Alenia Space as prime contractor. ESA assigned responsibility for Node 2 development to the Italian space agency (ASI), in order to take advantage of the same structural concept as the Multipurpose Pressurised Logistics Module (MPLM), a pressurised cargo container which travels in the Shuttle's cargo bay, and Columbus.

Node 2 is the first European node to be launched. It will serve as a connecting element for the European Columbus laboratory, the US laboratory Destiny and the Japanese laboratory Kibo. It also will be the attachment point for the Japanese HII transfer vehicle. It will carry a docking adapter for the US Space Shuttle and serve as an attachment point for the MPLMs.

Node 2 is also designed to be a working base point for the Remote Manipulator System, a Canadian robotic arm on the ISS called Canadarm 2. Node 3 will eventually house the life support equipment necessary for the permanent crew of six and will also accommodate ESA's Cupola observation module, a seven-window dome-shaped structure from where Canadarm 2 will be operated and the crew will have a panoramic view of space. Node 3 will be attached to the nadir port of Node 1 and will be delivered by ESA to NASA early in 2007.


STS-121 Mission T-Shirt. Use discount code 'nasaspaceflight' when ordering from Countdown Creations & receive 5% off!




NASASPACEFLIGHT.COM RSS FEED —>


Naspoli Bio:

Paolo Nespoli was born on 6 April 1957 in Milan, Italy. He was awarded a Bachelor of Science degree in aerospace engineering in 1988 and a Master of Science degree in aeronautics and astronautics in 1989 from the Polytechnic University of New York. He was awarded the Laurea in Ingegneria Meccanica by the Università degli Studi di Firenze, Italy in 1990.

Nespoli is a qualified professional engineer, private pilot with instrument rating, advanced scuba diver and Nitrox diver. During service in the Italian army between 1977 and 1984, he qualified as master parachutist, parachutist instructor, jump master, high altitude-low-opening freefall parachutist and special forces operator.


Nespoli resumed his university studies in 1985, leaving army duty in 1987. Upon completing his MSc in 1989, he returned to Italy to work as a design engineer in Florence, where he conducted mechanical analysis and provided support for qualification of the flight units of the electron gun assembly, one of the main components of the Italian space agency's Tethered Satellite System.

In 1991, he joined ESA's European Astronaut Centre in Cologne, Germany. As an astronaut training engineer, he contributed to the preparation and implementation of basic training for European astronauts and was responsible for the preparation and management of astronaut proficiency maintenance. He was also responsible for the astronaut training database, a software system used for the preparation and management of such training.

In 1995, he was seconded to the EuroMir project at the Agency's ESTEC establishment in Noordwijk in the Netherlands, where he was responsible for the team that prepared, integrated and supported the payload and crew support computer used on the Russian space station Mir.

In 1996, he was seconded to NASA's Johnson Space Center in Houston, Texas, where he worked in the Spaceflight Training Division on the preparation of training for ground personnel and in-orbit crew for the International Space Station.

In July 1998, he was selected to be an astronaut by the Italian space agency and one month later joined ESA's European Astronaut Corps at its home base of the European Astronaut Centre in Cologne, Germany.

In August 1998, he was relocated to NASA Johnson Space Center and assigned to the XVIIth NASA Astronaut class. In 2000, he obtained the basic qualifications necessary to be assigned to a mission onboard the Space Shuttle and to the Space Station. In July 2001, he successfully completed the training course for operating the Shuttle's robotic arm. In September 2003, he successfully completed extra-vehicular activity advanced-skills training.


**NASASpaceflight.com Job Opportunities** New site design coming soon.