Sea Launch's Zenit-3SL has successfully carried the Galaxy 16 telecommunications satellite into a geosynchronous transfer orbit (GTO) on Sunday morning at 07:50 GMT.
Galaxy 16 is the fourth spacecraft Sea Launch will orbit for PanAmSat. While it is designed for a 15-year lifespan, Sea Launch's direct insertion into equatorial orbit is expected to yield additional years of fuel life.

Following the completion of the mission, Rob Peckham, president and general manager of Sea Launch, congratulated PanAmSat and Space Systems/Loral.

"We take pride in successfully delivering our fourth satellite to orbit for PanAmSat. And we look forward to delivering many more as we continue to grow our long-standing relationship," Peckham said.
"We're delighted with today's mission and we want to extend our thanks to everyone involved in achieving this milestone event. In particular, I want to thank our partners and contractors and the entire Sea Launch team for executing another outstanding Sea Launch mission."

Mission preview: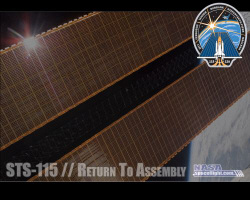 Built by Space Systems/Loral (SS/L), the 1300-series spacecraft, weighing in at 4,640 kg (10,229 lb), carries 24 C-band and 24 Ku-band transponders, primed to meet the needs of a variety of broadcast customers in the continental United States, Alaska, Hawaii, Mexico and Canada.
From its equatorial launch site at 154 degrees West Longitude, a Zenit-3SL launch vehicle will lift Galaxy 16 spacecraft to GTO, on its way to a final orbital location at 99 degrees West Longitude.
The launch was set for Saturday morning, but an off-nominal indication during routine testing at the launch site, the Sea Launch team stopped the countdown, took corrective action, and then reset the schedule for liftoff on June 18.
This will be the third launch of the year for Sea Launch, following the successful JCSat-9 launch in April.
STS-121 Mission T-Shirt. Use discount code 'nasaspaceflight' when ordering from Countdown Creations & receive 5% off!




NASASPACEFLIGHT.COM RSS FEED —>

Mission outline:


Lifting off from the Odyssey Launch Platform, a Zenit-3SL rocket will begin its ascent phase of flight. The first stage of the vehicle will separate two-and-a-half minutes after liftoff, and the protective payload fairing will be jettisoned 75 seconds later. Following a six-minute burn, the second stage will separate from the Block DM upper stage. The Block DM will operate for seven minutes and then shutdown for a 30-minute coast period.
The Block DM will burn a second time for four-and-a-half minutes. Following the second burn, and another 10-minute coast, the spacecraft will separate over the Democratic Republic of the Congo in Africa. The Hartebeestok ground station at Pretoria, South Africa, is expected to acquire a signal from the spacecraft about 5 minutes after spacecraft separation.
**NASASpaceflight.com Job Opportunities** New site design coming soon.