In a sign of NASA's return to regular flight operations, Shuttle Atlantis' mission has started to gain publicity, even while Shuttle Discovery is still in orbit.
Atlantis' STS-115 mission is set to launch at the end of next month, carrying the Port 3/4 truss to the International Space Station (ISS), where Discovery is in preparations for tomorrow's undocking.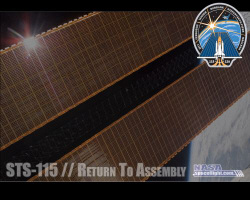 **STS-121: Launch: July 4 Launch/Debris/Flight Day 1* – Flight Day 2* – Flight Day 3* Flight Day 4* Flight Day 5* Flight Day 6* Flight Day 7* Flight Day 8* Flight Day 9*

**Flight Day 10* **Flight Day 11 – LIVE**

Media will be able to gain quote content relating to the truss from Boeing and NASA managers involved in the re-start of ISS assembly missions – the first of 15 missions that will take place up to the 2010 retirement date for the Shuttle fleet.
The truss is the next major addition to the 11-segment integrated truss structure that will eventually span more than 300 feet. The P3/P4 truss, with its two large solar arrays, will provide one-fourth of the total power generation capability of the completed station.
Atlantis is due to rollover to the Vehicle Assembly Building (VAB) on July 25, ready for mating with her twin solid rocket boosters and external tank (ET-118) – which have been stacked in preparation. STS-115 will roll to the pad at the beginning of August. Full live coverage of both rollover and rollout will be covered on this site.

Meanwhile, back in orbit, Discovery is in the midst of Flight Day 11, which involves the reberth logistics module and Orbiter Boom Sensor System in payload bay, performing late inspections on port wing leading edge, and the completion of middeck transfers.

The MPLM (Multipurpose Logistics Module) Leonardo was emptied of its supplies and experiments into the ISS over the previous few days. It will bring back some disposed clothing items and waste back to Earth.

Also taking place will be the use of the 50-foot extension boom attached to the shuttle's robotic arm, which will to examine the left wing for damage from MMOD (micrometeoroids) dings.
As was noticed on Discovery's return to flight mission last year (STS-114), small debris floating is space can impact the orbiter and cause slight damage. While such dings are not harmful for the orbiter, NASA wishes to gain a better understanding on the impacts via its new inspection techniques.

Discovery is due to return on Monday.




**FREE VIDEOS** – SRB Cam, Docking, Hatch Opening. Rbar (RPM) Video (8x). Flight Deck ascent video. Five videos of the debris events. Full T-30 mins to T+60 mins STS-121 launch video and all views of launch, plus more.
(Video section is FREE, but you need to sign up as a member of the forum to enter the video section of the site. We only use your e-mail to send you your password. It will not be used for spam etc.)
**NASASpaceflight.com Job Opportunities**