The hugely successful STS-121 mission has come to a conclusion today, with the re-entry and landing of Shuttle Discovery at the Kennedy Space Center.
The return of Discovery at 09:14 local time (14:14UK time), won't just mark the end of her mission, but will re-start the resumption of regular Shuttle operations – starting at the end of next month with the launch of Atlantis on STS-115.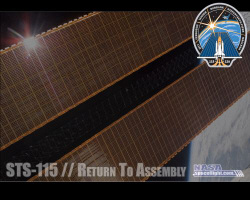 **FULL LIVE UPDATE PAGES, with images, live notes, free video and expert commentary from space industry professionals – CLICK HERE**
**Free video of decent, HAC and landing** – from nine minutes to landing.
(Video section is FREE, but you need to sign up as a member of the forum to enter the video section of the site. We only use your e-mail to send you your password. It will not be used for spam etc.)

Key to the success of this mission was how the modified External Tank performed on ascent, with relation to 'when' and 'how much' debris liberated. Only small pieces shed, mostly after the critical duration of the ascent. Discovery suffered no damage to her TPS (Thermal Protection System).
The results have ensured that Shuttle managers are happy to fly several more missions under the current level of changes that have been made to the tanks, before a further modification to the Ice/Frost ramps (IFRs) will come into effect, with the aim to see another reduction in foam hazards.
The mission itself was mainly uneventful – in the positive sense – with all major objectives achieved during the 14 day mission, earning praise for the veteran orbiter from her commander Steve Lindsey.

'We got a clean bill of health,' he said. 'So I think the vehicle has done great.'

The only issues on orbit proved to be issues with the APUs (Auxiliary Power Units) that provide power to the orbiter's hydraulic systems. Orbiters have three of these APUs, with only one required during the final elements of landing. That issue is now 'looking a whole lot better,' according to mission controllers in Houston.

As with Discovery's mission last year, some of the laptop computers on board also had issues, which would hardly gain a mention, had it not of being for the lack of problems with the main systems on the orbiter.

Discovery won't gain much of a rest once she's back in her OPF (Orbiter Processing Facility) at KSC, given the processing turnaround required for LON (Launch On Need) rescue mission support for her sister Atlantis – a role OV-104 had been on standby for during STS-121.

Discovery will be back in action at the end of this year with her own scheduled mission, STS-116 (12A.1), current NET (No Earlier Than) December 14. Her LON support of Atlantis ensures she'll be flight ready for a support launch STS-301, NET November 11.

Discovery will then go into a downphase period that will stretch until next September (STS-122) to allow for the SSPTS (Station-Shuttle Power Transfer System) modification.

This will allow Discovery to stay docked to the International Space Station for up to 12 days, instead of the current nine day period, allowing the orbiter to use the ISS solar arrays as a power source to the orbiter's electrical power requirements.

The long awaited return to flight operations with Endeavour takes place next year, standing by for Atlantis on STS-318 – in support of STS-117, while preparing for her own return to flight mission, STS-118 next June. Endeavour is currently receiving the SSPTS upgrade, prior to STS-118. Atlantis will go without, given her retirement at the end of 2008.




**FREE VIDEOS** – SRB Cam, Docking, Hatch Opening. Rbar (RPM) Video (8x). Flight Deck ascent video. Five videos of the debris events. Full T-30 mins to T+60 mins STS-121 launch video and all views of launch, plus more.
(Video section is FREE, but you need to sign up as a member of the forum to enter the video section of the site. We only use your e-mail to send you your password. It will not be used for spam etc.)
**NASASpaceflight.com Job Opportunities** If you are awaiting a response, please re-send due to e-mail failure.