The prognosis for Discovery's launch was excellent, according to Space Shuttle Program Manager Wayne Hale.
The relief was evident in Hale's positive comments on the early evaluations relating to images and video of the observed foam liberation that came off the External Tank. Discovery, so far, has been classed as the much-needed "clean flight" during ascent.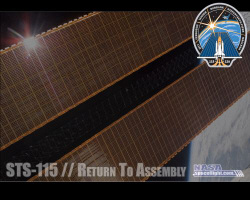 **STS-121: Launch: July 4 LIVE Launch/Debris/Flight Day 1** – review the day's events in full.

**FREE VIDEOS** – Five videos of the debris events. Full T-30 mins to T+60 mins STS-121 launch video and all views of launch, plus more.
(Video section is FREE, but you need to sign up as a member of the forum to enter the video section of the site. We only use your e-mail to send you your password. It will not be used for spam etc.)

During a briefing this evening, Hale described five minor foam shedding events, all of which occurred after the "danger cut-off" point of two minutes, fifteen seconds. As explained by Hale, after this point there is simply not enough atmosphere to accelerate any foam or debris to a fast enough velocity to damage the orbiter¹s delicate underside.

In addition four of the five pieces of foam seen leaving the External Tank were below the mass that would endanger the vehicle – if they had come off in the first two and a quarter minutes.

"I think the tank performed very very well indeed, as opposed to where wewere last year. We saw nothing that gives us any kind of concern," concluded Hale.

Even though Discovery has been given a preliminary clean bill of health, the crew will perform a very thorough inspection of the vehicle using the fifty-foot Orbital Boom Sensor System (OBSS). It will be used beginning tomorrow to scan the leading edges of the wings, the nose cap, and the crew compartment.

The OBSS includes two laser imagers that can resolve details at a resolution of few millimeters. The boom will scan Discovery at a rate of about six centimeters per second. If shuttle engineers suspect damage has occurred to other areas, as evidenced in imagery captured during lift-off, then additional regions may be scanned later in the mission.

In addition, Mission Specialist Mike Fossum captured video footage of what appeared to be fabric thermal insulation blankets tumbling away from Discovery immediately after separation from the External Tank. However upon further inspection, it was determined to just be an ice formation that had separated from the shuttle's main engines after launch. It was very similar to one seen last year after Discovery's launch on STS-114.

Hale had this to say about the ice: "You look and those photographs and you would think that's gotta be fabric. That's what the crew clearly thought. It is clearly ice. If you look at that video a while you see it clearly breaking up into water vapor. So that is not an issue."

Other than those two issues, Discovery's ascent to orbit was flawless, and all other systems on the orbiter remain in good health. Discovery lifted off on time Tuesday at 2:37 p.m. EDT and carries a crew of seven on a scheduled 13-day mission to resupply and deliver a third crewmember, Thomas Reiter, to the International Space Station.


**NASASpaceflight.com Job Opportunities**