With the weather constraint projections showing 30-40 percent "no go" for today's launch window, Shuttle Discovery has her best opportunity to launch on STS-121. Launch is targeted for 2:37 pm EDT (19:37 UK time).
Discovery's previous two attempts (July 1 and 2) were both scrubbed due to poor weather in the area.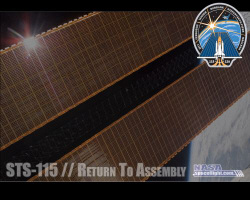 NASASpaceflight.com has started live coverage of the event, with expert commentary, images, video and source information provided on the link below.

**STS-121: Launch Attempt 3: July 4 LIVE Update Page** – One stop LIVE updates.


CURRENT STATUS: (Colour code: Red 'No Go' – Green: 'Go')

External Tank Weather Orbiter Range.

NEWSFLASH: POLLS – GO FOR LAUNCH.

LOX Inlet Temp issues: Source: 'We'll still go is my bet. These XDucerrs are located where the MPS 12-inch Feedline meets the LOX inlet Low pressure Turbo pumps and are an LCC req. for proceeding. Pratt and Rocketdyne can fly but the pumps will be stressed like they were in a Qual run. The pumps are very tough.'

KEY POINTS: ET sources:.Tank loading was very clean with no issues noted. No problems with the ECO sensors (inc. 5 percent sensors). No frosting observed on Ice/Frost Ramps.

Weather projected to be green at time of launch. All looking good for launch.


ISS prepare for Discovery's arrival.
While NASA continues to work towards what will only be the second flight of the Shuttle since the Columbia disaster, preparations on the International Space Station have concluded, as Pavel Vinogradov and Jeff Williams await the arrival of Discovery on July 6 – should today's launch proceed as planned.

Over the past few days, both crewmembers spent 90 minutes each for continuing to collect and prepack hardware slated for return on the Shuttle.

In the Lab module, Williams set up the RWS (Robotics Work Stations) and DOUG (Dynamic Onboard Ubiquitous Graphics) software for the upcoming SSRMS (Space Station Remote Manipulator System) activities, specifically for the OBSS (Orbiter Boom Sensor System) grappling on FD3.
According to the ISS On Orbit status reports, DOUG is a software application that provides a graphical birdseye-view image of the external station configuration and the SSRMS, showing its real-time location and configuration on a laptop during its operation.

Vinogradov prepared PBA (Portable Breathing Apparatus) stowage by removing the PBA units from their ZSR (Zero-G Stowage Rack) lockers and placing them back in the RS (Russian segment), preparing them for the PBA tank to be delivered on ULF1.1. Williams meanwhile started the repressurization process on PMA-2 (Pressurized Mating Adapter #2) in preparation for ingress and stowage after the Shuttle's arrival.

Afterwards, Williams hooked up VTR (Video Tape Recorder) bypass cable connections such that video can pass to and from the station on the Lab's starboard side during the docked period and the station can also receive video from the Orbiter on the port side of the Lab. Vinogradov completed the regular monthly battery check and reboot of the PCS (Portable Computer System) A31p laptops.

The crew also configured the camera and camcorder equipment that will; be used for the photo/video documentation of tomorrow's Orbiter approach and RPM (Rbar Pitch Manoeuvre).




**INFRARED STS-121 MUSIC VIDEO** – Trust Discovery.
(Video section is FREE, but you need to sign up as a member of the forum to enter the video section of the site. We only use your e-mail to send you your password. It will not be used for spam etc.)
**NASASpaceflight.com Job Opportunities**