Images have been acquired that show serveral areas of damage to TPS (Thermal Protection System) tiles and blankets on Shuttle Discovery.
While all of the damage is small, the images are currently being poured over by engineers to confirm Discovery will not require any repair work, and will be cleared for re-entry next week – as expected.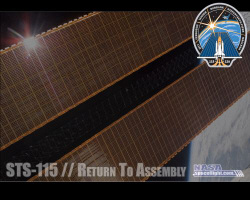 **STS-121: Launch: July 4 Launch/Debris/Flight Day 1** –

**STS-121: Flight Day 2 Updates**

**STS-121: Flight Day 3 LIVE (Discovery docked)**


Images are still being acquired and include information gained from yesterday's OBSS scans. The current list expected to be updated. Hi Res Images on L2.


Area 1) Starboard RCC Panel 9, which shows 'scuff marks' – notably in four areas. It is not know if this panel had these marks pre-flight, although it is unlikely such an area would be highlighted if that was the case.
Documentation shows it as 'Zone 620 – panel 9,' with the following note: 'This is estimated to be in Curry-Zone 3 or 4, where the requirement is 0.08 inches. LDRI Analysis 4 began processing at GMT 16:37. LDRI Analysis 4 completed processing at GMT 17:29.'


Area 2) Blanket Patches lifted (nose area). A high resolution image shows damage to two small TPS blankets on Discovery's nose.

One is located just about the three smaller forward RCS (Reaction Control System) thrusters on Discovery's nose section, showing what appears to be a slight tear. The other is on the far left hand side of the nose, nearer the thrusters located on the side of the vehicle.


Area 3) Small Damage to Tile between windows 3 and 4.

Located in-between the pilot and commander windows, tile substrate is seen to be exposed, with the appearance of a 'chip.'

Damage, however, is classed as small.


Area 4) Two areas of interest near the Crew Hatch TPS blankets. Damage dimensions assumed from blanket cell dimensions, noted attached information.

'Crew hatch FI blanket exhibits puffiness with potential for missing stiches.'



**FREE VIDEOS** – Docking, Hatch Opening. Rbar (RPM) Video (8x). Fligh Deck ascent video. Five videos of the debris events. Full T-30 mins to T+60 mins STS-121 launch video and all views of launch, plus more.
(Video section is FREE, but you need to sign up as a member of the forum to enter the video section of the site. We only use your e-mail to send you your password. It will not be used for spam etc.)


**NASASpaceflight.com Job Opportunities**