NASA's Mission Management Team (MMT) has cleared Discovery for launch, set for Tuesday afternoon local time.
Using an inventive technique, engineers employed a long tubular camera called a borescope to closely inspect the bracket area on Discovery's External Tank where a small chunk of foam had separated during detanking after Sunday's scrub.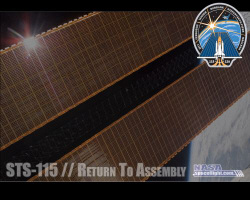 The three issues examined by the MMT – before Discovery was cleared for launch – were aerothermal heating on the affected bracket during lift-off, ice formation in the same affected area, and finally whether hands-on inspection or repair work was needed.

With the evidence from the borescope, Mission Managers gained confidence that the area will not shed any more foam, and therefore repair work was unnecessary.

'I think when we looked at performance that John asked for, we looked at the heating, we looked at the possibility of ice, and the structural integrity, it became obvious that a repair wasn;t necessary,' Bill Gerstenmaier, NASA associate administrator said concerning the issue of foam repairs.

'The foam that is left in place has the strength and the ability to do to do what it was designed to do.'

The possibility of ice buildup was also cleared, after it was decided that the affected area had more foam applied than necessary – and losing such a small chunk of would not affect the foam's ability to prevent the dangerous build up of ice on the tank.

The issue of ascent aerothermal heating was also determined not to be a problem, after an analysis showed that the area around the structure had more than enough margin to be deemed safe for flight. Gerstenmaier gave the ascent aerodynamic heating issue a safety factor of five.

With all three issues cleared by the MMT, Discovery's launch is targeted for 2:37 p.m. EDT on Tuesday. The weather continues to be a factor in launch though, as there is still a 40 percent chance of weather prohibiting Tuesday's attempt.

On Wednesday the news is even worse, with a 60 percent chance that weather conditions will prohibit launch. However, NASA managers say Tuesday's slightly more favorable weather did not play a role in any decision made not to take a closer look at the tank, which would have caused a one day delay to Wednesday and its associated weather outlook.

Gertstenmaier praised all the work completed today saying, 'We've laid out the data, we've looked at it calmly, we're ready to go fly.'

STS-121 is the 115th shuttle flight and the 18th mission supporting the assembly and maintenance of the International Space Station (ISS).




**INFRARED STS-121 MUSIC VIDEO** – Trust Discovery.
(Video section is FREE, but you need to sign up as a member of the forum to enter the video section of the site. We only use your e-mail to send you your password. It will not be used for spam etc.)
**NASASpaceflight.com Job Opportunities**