Shuttle Discovery has scrubbed her launch attempt for second test flight mission STS-121, from the Kennedy Space Center, Florida.
The first launch opportunity was targeted for 3:50pm local time (8:50pm UK time) – but the weather constraint – notably anvil clouds over the RTLS abort (Return To Landing Site) flight path – proved to be too much to overcome before the end of the launch window.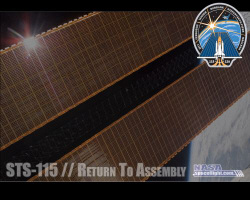 NASASpaceflight.com has started live coverage of the event, with expert commentary, images, video and source information provided on the links below.

**STS-121: Launch Attempt 1: July 1 Update Pages** – One stop live updates.

Key points during the countdown:

ECO (Engine Cut Off sensors) has no issues.

'ECOs do look okay; they performed the 'switchout' test as planned (after both LO2 and LH2 five percent sensors indicated wet) and all the sensors switched to DRY, which indicated that they work properly,' noted a source.

'They've been switched back to WET, although I don't know why so early – they 'normally' do that around the end of the T-9 minute hold.'

Off nominal update round up:


A potential scrub issue was noted this morning, due to Orbiter RCS (Reaction Control System) heater problem.

Troubleshooting was on-going throughout the countdown, with the decision to proceed to fly 'as is' after a management/engineering meeting classed the fault as not a constraint for launch.

NASA refer to an issue with the heater on the venire control system on the left OMS pod.'

'There is some discussion over whether or not to continue to prepress (to test the prepress system) if we do scrub,' noted a source, speaking earlier about the potential of testing the tank despite a scrub being called.
Preview:

Discovery's mission currently has no 'poke-outs' from the Management Mission Team (MMT), who last noted: 'No formal constraints to STS-121 launch were identified at the MMT. All MMT members were GO.'

The last issues to be worked out in preparation for this launch were deemed minor, including a Radiator Retract Hose issue, Tyvek Cover replacement – and a slight delay for the official go for the Eastern Range.
Other issues noted: 'Lightning strike – 3 ground cameras were affected are back up and operational. Potential impact to radar(s) but not a constraint to launch.'

More to follow…




**INFRARED STS-121 MUSIC VIDEO** – Trust Discovery.
(Video section is FREE, but you need to sign up as a member of the forum to enter the video section of the site. We only use your e-mail to send you your password. It will not be used for spam etc.)
**NASASpaceflight.com Job Opportunities**