Discovery's STS-121 mission has suffered a second launch scrub on Sunday, due to the continuing poor weather over the Kennedy Space Center.
Weather forecasts placed the launch window at 70 percent "No Go" for the scheduled attempt, which was set to take place at 15:26 local time (20:26 UK time). Another attempt will be made on Tuesday at 14:38pm local time.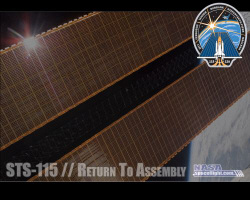 NASASpaceflight.com has started live coverage of the event, with expert commentary, images, video and source information provided on the link below.

**STS-121: Launch Attempt 2: July 2 LIVE Update Page** – One stop LIVE updates.


KEY EVENTS: (Colour code: Red 'No Go' – Green: 'Go')

ECO Sensors Weather Orbiter Range.

Key Points: 48 hour scrub to preserve PRDS reactants. ECO sensors were fine, bar one 5 percent WET fail. IFR (Ice/Frost ramps) were showing frosting, but no effect on launch proceedure. ET-119 yet to test pre-press.


Announcement of scrub:


'We've talked to launch weather and landing weather and we've concluded we're not going to get a chance to launch today,' Kennedy Space Center Launch Director Mike Leinbach.
'So in order to preserve as much time in the turnaround and preserve (PRDS reactants) to give you a chance of a third EVA (Spacewalk) on orbit, we've decided to terminate the count, stand-down for 48 hours, due a hydrogen reactant top off and make the next attempt on Tuesday.'
Preview:

Electrically charged anvil clouds over the RTLS (Return To Landing Site) abort flight path put pay to Saturday's attempt, causing Saturday's scrub during the time Discovery was due to come out of her T-9 minutes hold.
Anvil clouds were breaking off regional thunderstorms and passing into the areas that Discovery would have required clear skies for the RTLS abort. These clouds are also dangerous, given they can retain their potential for causing lightning.
'Since we began tanking, we knew we were going to get into a race against the weather – and it turned out that it did get us,' said Leinbach. 'The main concern was Anvil clouds that were coming off thunderstorms 30 miles to the west of KSC. The concern is that these clouds can still carry electrical charge.
'If we fly through (anvil clouds) or close to them, we could trigger lightning to the shuttle and we have very strict rules to prohibit that.'
Lightning and their effects on spacecraft has been on the minds of NASA for years, following the lightning strike on the Saturn V rocket – carrying Apollo 12 – was struck by lightning on ascent in 1969. Despite the strike disrupting electrical systems, the mission proceeded towards the moon as planned.

NASA's rationale for proceeding with the count, despite the threat of weather holding a 60 percent chance of causing a scrub, was the possibility of a gap in the sky above Florida during the five minute launch window. That gap in the weather looked likely during the latter stages of the countdown.
'At one point in the count, maybe about 45 minutes before we scrubbed, we thought we might get to the point where we could go, it looked like we might get a hole,' added Leinbach. 'But then it became really clear with about 20 minutes to go that we weren't going to get there today.'

The prospects for improving weather appear unlikely until Tuesday, with Sunday's current status showing similar, if not slightly worse, weather prospects for the afternoon over the Cape.

'Same type of weather patterns on Sunday, there's a little bit of cloudiness building down in the Bahamas that the Range Officer has briefed me on, that may increase our chances of clouds,' noted Leinbach. 'So we'll be fighting a 60 percent 'No Go' just as we have been on Saturday, with very similar weather patterns.

'So Sunday is almost setting up to be a repeat of Saturday.'




**INFRARED STS-121 MUSIC VIDEO** – Trust Discovery.
(Video section is FREE, but you need to sign up as a member of the forum to enter the video section of the site. We only use your e-mail to send you your password. It will not be used for spam etc.)
**NASASpaceflight.com Job Opportunities**