SpaceDev have announced a Memorandum of Understanding (MOU) with United Launch Alliance (ULA) to pursue the potential of launching people and cargo in SpaceDev's Dream Chaser vehicle atop of the Atlas V.
Under a MOU recently finalized by the two companies, SpaceDev will work with ULA to explore the technical requirements for commercial launch services needed to transport crew and cargo to space.
The news was exclusively revealed by NASASpaceflight.com on Monday night, and released to the media Tuesday morning.

Huge amounts of VSE related insider news and presentations – THE most comprehensive place to follow Ares/Orion development – are available for download on L2. See list at the end of this article.
**ARES I / ORION LIVE UPDATE PAGES**

** COMMERCIAL SPACE FLIGHT UPDATE PAGES
On L2: Lockheed Martin: Centaur Application to Robotic and Crewed Lunar Lander Evolution Presentation, March 2007. Lockheed Martin's Lunar Lander Configurations Presentation. Atlas Human Rating Black Zone Closure Presentation. EXTRATERRESTRIAL MATERIALS PROCESSING AND CONSTRUCTION (Historical) Presentation. NASA Lunar Lander Updates. ESAS Alt: Atlas X. Atlas Human Rating Presentations. Atlas/Bigelow presentations/Latest.
SpaceDev and ULA will conduct compatibility analysis of integrating a Dream Chaser on an Atlas V launch vehicle. This analysis will include both a comprehensive technical feasibility review and programmatic review of the overall business case required to ensure success of the concept.
According to materials obtained by NASASpaceFlight.com, the winged Dream Chaser would likely be launched aboard the Atlas V 431 configuration with three solid rocket boosters.
SpaceDev's Dream Chaser is a reusable lifting body vehicle based on the form of NASA Langley's HL-20 spaceplane concept from the 1980s, which can land on a conventional runway. 
The craft is designed for six to eight passengers or cargo, and uses SpaceDev's rubber-burning hybrid rocket motors, which powered SpaceShipOne.
The Dream Chaser is one of many vehicles being activley considered by ULA to fulfill their ambitions to use the Atlas V for commercial Human Spaceflight.
A similar agreement with Bigelow Aerospace – exclusively revealed by NASASpaceFlight.com – last September initiated studies into use of the Atlas V for transportation to Bigelow's planned commercial space station. 
A set of papers presented by Lockheed Martin at the same time expressed confidence in man-rating the Atlas V 401 and 402 with minimal modifications, and using the vehicle for commercial passenger transportation and ISS missions.
The Dream Chaser could provide the manned vehicle needed to deliver passengers to the Bigelow station.  The vehicle could also be used for ISS resupply and crew rotations missions or orbital tourism.
'We look forward to investigating the use of the Atlas V as a major part of our Dream Chaser transportation system that will provide lower cost and reliable access to space,' said Mark N. Sirangelo, SpaceDev's Chairman and Chief Executive Officer.
'The heritage design work that is being utilized in the Dream Chaser and our own on-board hybrid propulsion system allows us to combine strong technology in an innovative manner to make access to space a reality.'
The immediate predecessor to NASA's CEV capsule was the Orbital Space Plane, which was quite similar to the Dream Chaser design.  Lockheed studied the launch of OSP designs atop the Atlas V in depth in the years before NASA's decision to use a capsule. 
Lockheed's recent work to demonstrate that the Atlas V can be safe for human flight heavily leverages its earlier Orbital Space Plane project investigations.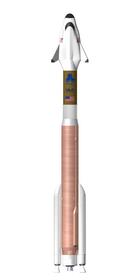 Bigelow Aerospace has developed and tested an inflatable space station module in its efforts to establish a commercial space hotel and laboratory in low earth orbit. 
The company successfully launched and tested a small prototype station module, 'Genesis I', on a Russian Dnepr launcher early last year.  Bigelow intends to launch a second 'Genesis II' prototype from ISC Kosmotras in the coming weeks.
Bigelow has often expressed willingness to work with any capable launch provider, although last fall's Atlas V agreement seems to signal a desire for an accelerated schedule with a more mature launch provider.  Bigelow has a relationship with SpaceX, and is on their Falcon 9 launch manifest for 2010.
Bigelow has also recently announced a formal Letter of Intent with the other NASA COTS winner, Rocketplane Kistler, expressing a general willingness to buy transportation services in the future.
Selection of L2 Resources For Ares I, V and Constellation: SIX Part Series of Ares I Upper Stage Graphical Overviews. DAC-1C DDD Vast Slides on Vehicle Design. ATK First Stage Presentation. 39B Lightning Towers Slides. DAC-1C Departure points to DAC-2 Upper Stage Graphcs (Many Changes).
Orion/CEV Display Layout Presentation (40 pages) – Feb 5. ATK figures on the 5-Seg Booster weight for CLV – Feb 2. Weather Shield (Rain Shield) for Orion on the pad – Feb 1. New Super hi-res images of Ares I – Feb 1. ATK Cutaway graphics of Ares I – perspective and axonometric – Feb 1. Ares I/Orion CxP 72031 Requirements Validation Matrix Information. CEV Paracute Assembly System (CPAS) Presentation.
Orion Launch Abort System (LAS) overview presentation – Jan 16. Major changes to Ares I Upper Stage – expansive details and data. Ares I/Orion CxP 72031 Requirements Validation Matrix Information. Saturn Twang Test Video for use with Ares I-1R. CLV Umbilical Trade Matrix XLS.
Vehicle interfaces for the DAC 1C version of Orion Ares – Jan 3. Ares I-1R Test Flight Plan (full outline) Presentation. Ares I-1 timeline and modification expanded info. Ares I troubleshooting latest. Ares I Reference Trajectory. Boeing's STS to Ares – Lessons Learned Presentation. Latest Ares I and Ares V baseline Configuration image and data. CLV DAC-1C (Changes to CLV Upper Stage).
Ares I-1: Four Seg+Dummy 'Tuna Can' stage. Ascent Developmental Flight Test Presentation. CLV Pad 39B Handover Info and Latest. New images of CLV on top of new MLP and LUT. Lockheed Martin CEV/Orion Updates. Constellation news updates. ATK figures on the 5-Seg Booster weight for CLV.
90 Minute Video of Constellation all hands meeting. CLV TIM Meeting Information. CLV/CaLV Infrastructure, Timelines and Information. Escape System Trade Study Presentation.
CEV-CLV Design Analysis Cycle Review (DAC-2) Presentation. Constellation SRR updates. CLV Stick – Troubleshooting/Alternatives/Updates. New CEV Images (include abort mode). Flight Design and Dynamics Division CEV update. CLV Mono-propellant RCS system. CEV pressurisation system review. CLV/CEV Configuration Images. The 2×3 Seg SRB Crew Launch Vehicle Option Presentation…plus more.


 
**NASASpaceflight.com Job Opportunities**